Planning and accommodation:
When I asked my Fiance Amanda to accompany me on a seven-day deer hunt the third week of December, in Nebraska, at the Fort Niobrara National Wildlife refuge. I did not think she would oblige. I looked at her over my camo coffee mug that October afternoon and said in a joking manner "you know, if I can't find a hunting partner for this trip you might have to go with me". She looked back at me with a questioning expression and without hesitation said; "of course I'll go with you". My eyes lit up, I was shocked, to say the least; that little hippie girl had always supported my hunting but never really took an interest in participating until that day. My original plans immediately changed, I was going to camp with a stove tent set-up and come back to a campground after the daily hunts. I was not able to camp in the refuge I was about to hunt and had to lay out different options. Camping in the winter can present a myriad of challenges, one of the glaringly obvious being warmth. Although I believe she would have handled this self-imposed winter weather abuse, I wanted her first western hunting encounter to be comfortable. So a quick google search pulled up a slew of options and we decided to "Sleep in the Raine". Ok, not really sleeping in the rain. "Sleep in the Raine" is the motto of the drive-in accommodation we picked, The Raine Motel. Just under five hundred dollars and a warm place to sleep was booked for the week.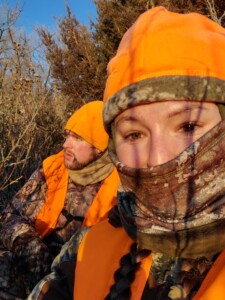 I quickly shifted my focus to gear. This specific refuge only allows traditional weapons to take game, this meant I would need to hone in my inline CVA Optima V2 muzzleloader or bring archery equipment. A hunter must apply for week-long blocks to hunt the gun season or muzzleloader season on the Fort Niobrara refuge, with a muzzleloader. The refuge is open to archery equipment, without a permit, during the regular season. A lottery is drawn for 12 firearm access permits per one week of hunting during the designated firearm or muzzleloading season. All of this information can be found on the refuge website and is quite easy to comply with. I was lucky to pull an access permit for the third week in December, right before Christmas. I wanted to look for Mule deer but knew they were slim in this part of Nebraska. A whitetail buck would also make the trip worthwhile and would become our backup plan if Mule deer escaped our sight. Fort Niobrara is a diverse ecosystem and perhaps the largest distinguishing factor about Fort Niobrara National Wildlife refuge is the fact that there are free-roaming buffalo. A herd of approximately 350 Bison inhabit the refuge, this factor coupled with the use of traditional weapons had me feeling as if we were about to take a step back in time.
The Hunt:
Fort Niobrara proved to be one of the most majestic outcroppings of land that I had ever seen. I had a hard time believing such diverse biomass could exist in this environment but man was I surprised. Buffalo, Elk, Whitetail deer, Pinnated grouse, Coyotes, and Wolves are a few critters we spotted while out hunting the refuge. We would access the refuge daily by crossing a buffalo bridge, this bridge was used when placing buffalo on the refuge. Today it serves as a path for hunters, hikers, and general nature enthusiasts. It is quite the sight to behold, stretching across the Niobrara river and reaching over into the allowable hunter access area. A hunter will need to go through a series of gates to get into the refuge, two on the south side of the river and two on the north side of the river depending on the chosen access route. During the week-long hunt, we would explore buffalo trails, river crossings, and bottoms, Drumlin tops, and the trails it took to reach the said top. We experienced views I thought one could only absorb on the peaks of some western mountain range, the drumlin would provide elevation and the falling prairie below would allow your eye to gaze for miles. Multiple creeks flow through the designated 5,100 approximate acres, spanning out with veins of burr oak, prairie grass, and native shrubbery.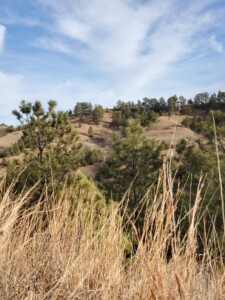 From the first moment we set foot on the refuge, we were on deer. We had no sooner stepped off of the buffalo bridge and through the first livestock gate when I looked to our right and saw two whitetail doe bounding into the brush. We quickly climbed a sandy trail to the top of the first drumlin only to see a small six-point buck checking us out from under a ponderosa pine. I motioned to Amanda to stop and get down but the buck bounded off into a drainage. We had decided to hunt close to the front the first day, deer activity slowed from that moment forward and we did not see another deer until that evening. We would jump two beautiful, perfectly symmetrical eight-point whitetail bucks on the hike out. I was excited, we were finally on the refuge and we were seeing deer, this hunt was already a success. The following days would prove to be perfect weather but would not provide an opportunity at a shot. We glassed several good whitetail bucks and even saw an absolute stud whitetail that had shed half of his rack already. I did not lay glass on a single mule deer the entire time we were on the refuge. This wasn't a heartbreak though, I love hunting and whitetail deer are my number one game animal to go after, we slightly recalibrated and started focusing mainly on whitetail.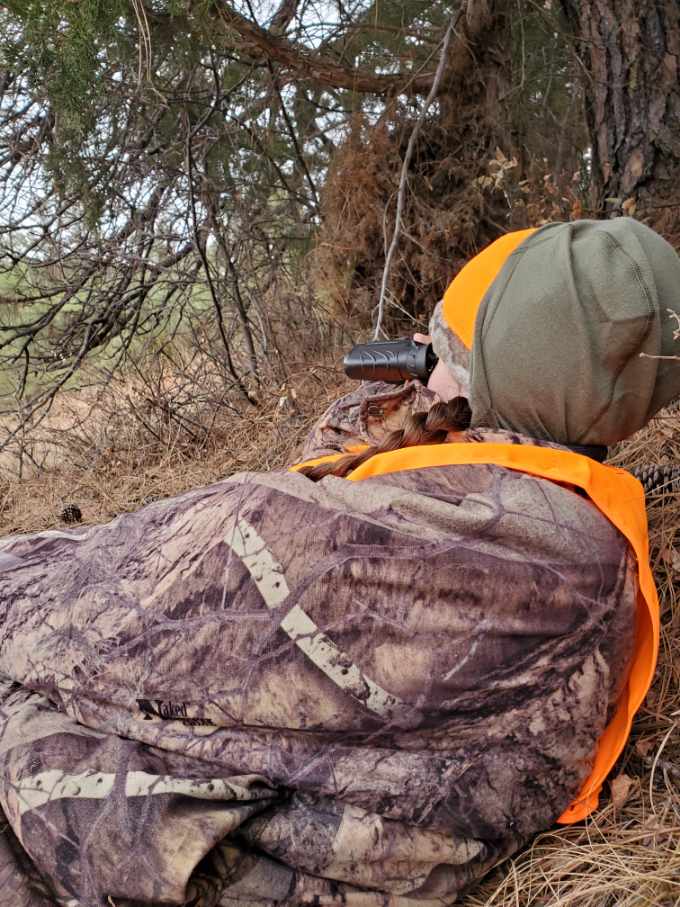 With three days left in the trip, we decided to push to the back of the refuge first thing in the morning. Two miles straight into the bush and this back area was the spot we had seen the half-rack monster whitetail. This big push strategy proved successful, I glassed up a few does coming out of the creek bottom, and following right behind was a nice eight-point buck. We were well over 1000 yards away and had some ground to cover. An inline muzzleloader in my hands can shoot about 250 yards. I am only comfortable out to about 200 yards ethically, with my Optima V2, this means we had to stalk. I snapped a quick photo so we would know where the deer were when we left the ridge top and Amanda and I began our stalk. We quickly covered the ground down the slope we were set up on, once in the valley between our ridge and another ridge that rose up in front of us, we had to find a vantage point over the creek bottom where the deer had last been seen. We began to work our way up the new ridge and had to immediately stop as we were covered in deer. We walked right into a hillside bedding area and there were doe moving all over. We slowly snuck up the sloped ridge as the doe slowly moseyed off of the bottom. We took every step as serious as the last, eventually making it to the top of the new ridge. Luckily a small ring of rocks rose up off of the top of the ridge like the crown of some sentinel king. We hid behind this crown while we glassed for the deer we had seen about thirty minutes before. Those few does and nice eight had vanished into the ether, I was confused, to say the least as my first western stalk had gone awry. We would not see another deer that day and leave the refuge feeling a bit defeated.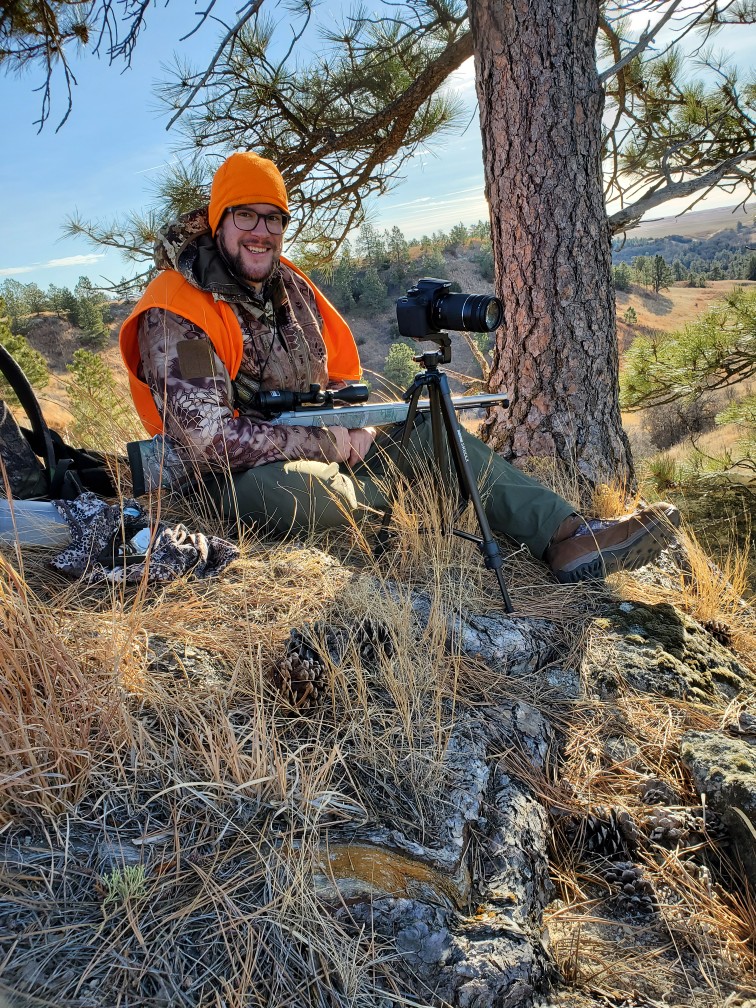 Against my better judgment, we decided to hunt at the front on the second to last day. We were late getting to the parking lot and had a few trucks in front of us, exhaustion was starting to set in as the miles began to add up. The sun slowly rose over the prairie and illuminated the refuge and sandy path in front of us. Our feet slipped as we climbed to the glassing knob we had sat on the first day. It didn't take long for Amanda to whisper "There is something moving down there!". I pulled my Vortex Diamondback binoculars to my eyes, immediately I recognized that bright orange glow of a blaze vest. Hunters had been set up a few hundred yards below us glassing the same valley. We would have to move. I was a little disappointed, I would be lying if I said I wasn't but this was the last day and we had to at least see some deer. We hoofed it, once again, to the back of the refuge. Once we arrived at that familiar ridge we had made the stalk on, we set up and had lunch. This was our last chance at getting a deer, one more hunt left and I had decided we were going to get aggressive. Once we finished our turkey and ham sandwiches Amanda and I pushed down into the creek bottom in which we had seen a few bucks and doe before. After some scouting, we could not find a spot with good cover and a decent view of the hillside we wanted to hunt. However, there had been a buffalo path coming down off of the ridge and a distinct spot in which the buffalo had made a large dirt hole in a kind of switchback configuration. In front of the dirt hole, below us, about 20 feet the path continued out and over the creek that was babbling on. We had a great view of the active hillside and decided to make the best of a tough situation.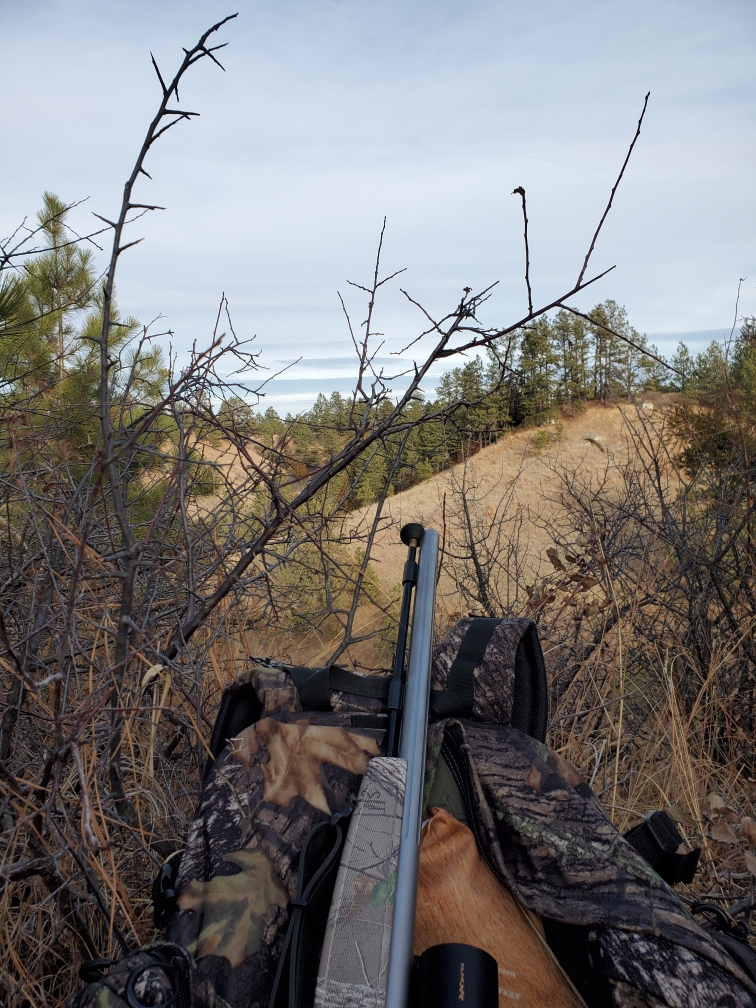 Sitting in that dirt hole, shielded from the wind and warmed by the day's last rays of sunshine, we waited. The brown backdrop of the dirt and the prairie grass that rose up behind us just outside of the hole would prove to provide just enough cover. With about twenty minutes left in the hunt, Amanda tapped my arm. "I see a deer," she whispered. I looked to the hillside and scanned every open area I could, I did not see the deer. "It's a buck" she added. My heart began to flutter faster as I whispered "give me a landmark to go off of". Amanda walked me into the spot she had seen the deer, picking out pine trees we had discussed before and slowly moving my field of view down the hill until… wham! There was a whitetail buck with the largest spike antlers I had ever seen. With time running out I decided to take this buck. I rose my range finder and clicked the on the button, one hundred and ten yards. I pulled my Optima V2 to my knee and rested the crosshairs on the breadbasket. With a click and a second wait, my powder ignited and a gray plume of smoke emitted from my barrel. The buck looked back behind himself and then took off down the hill, right towards our position. There was only one problem now, I did not see blood pumping from this buck's body, I had missed.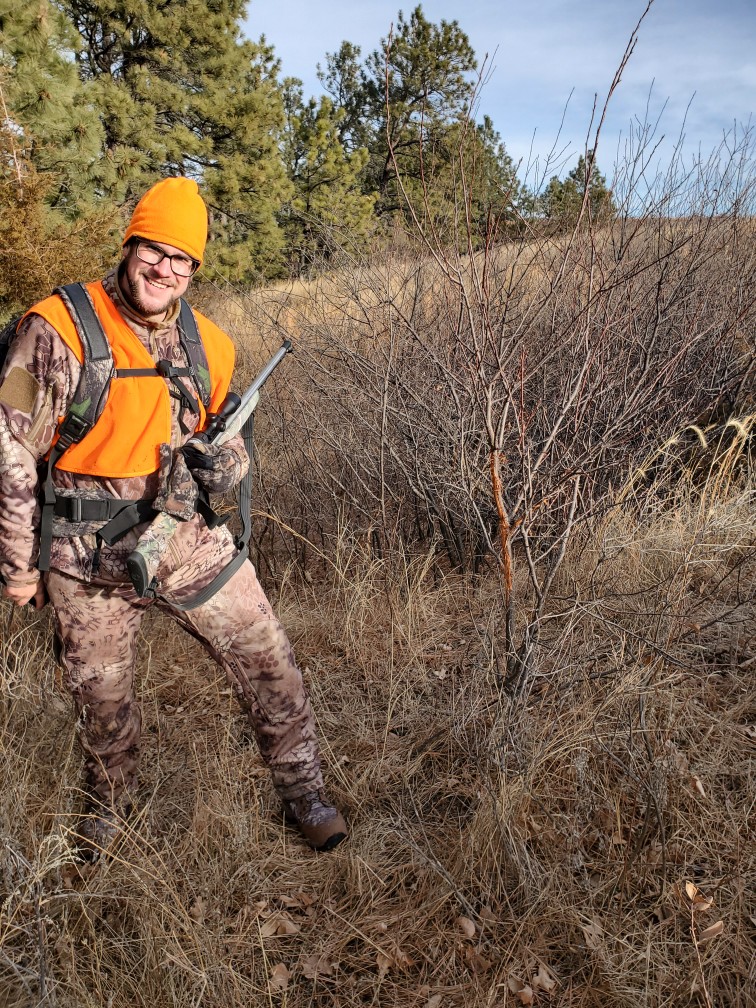 Quickly I reloaded, popping the cap off of my speed reloader tube and dropping the powder down the barrel, now the wad and the sabot, push push push, "hurry!" I exclaimed internally, now the cap. Reloaded and ready for shot number two; I pulled up my muzzleloader. The deer had stopped 50 yards in front of us down in the creek bottom. Surely I could not miss a shot this close with the buck facing away from me, I rested my crosshairs on the back of his neck. Again a click, a boom, and a subsequent plume of smoke. The buck took off down the creek as Amanda I slowly looked at each other. We packed up the camera and all of our gear. Rookie mistake, we had forgotten to turn the camera on so we could not check the video for a confirmed hit. Sitting in that dirt hole kind of left us exposed and minimal movement was the decided strategy for success. Descending down the hill to the creek bottom I had a pit in my stomach. This inline muzzleloader had taken a knock on day three of the hunt. That knock would prove to be worse than I had imagined and wouldn't allow that firearm to put a sabot on paper at fifty yards. I confirmed this when I returned to the range the week following this hunt. We searched for an hour and failed to find blood. I followed tracks through the creek bank to make sure I had missed clean and could leave the refuge with a clean conscience.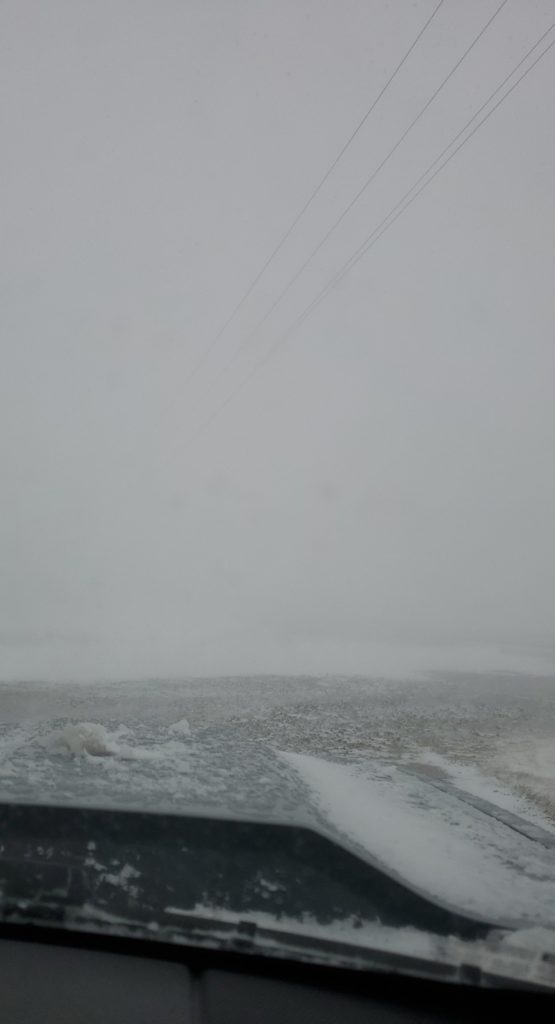 That walk out of Fort Niobrara was the hardest, we ran into several buffalo herds that had come together and created one very large herd. This herd cut off our path back to the bridge and our path out of the refuge. Walking with my head down, disappointed I had missed, I almost walked right into a large bull, he grunted to alert me to his presence and we changed directions. It was dark as all heck and there were buffalo all around. We would come to learn that a blizzard was blowing into Nebraska and I feel that is what caused all of these buffalo to herd up. Once we exited the refuge and made it back to the truck I had a little chuckle. "What," Amanda asked, "Well, I guess that was a best-case scenario of a miss" I replied. If I was going to miss my mark I was happy with a completely clean miss. I was also happy we had only seen a spike, I'm not sure I would have been able to recover if I had missed a giant buck. The next morning we packed our truck in the snow and blowing wind. Our plan was to drive to Sioux Falls, Iowa, and rest for the night. The blizzard had other plans as we would find ourselves stranded in a whiteout after traveling a few hours east. It would take us ten hours to drive what should have taken five. Exhausted and with our nerves shot, we made it to Sioux Falls and rested our heads, this trip was already a success. All of this extra stuff was just added fun.
P.S: I would be remiss if I had told this entire story without mentioning the best place to eat in Valentine, Nebraska. The Peppermill Restaurant and EKV Lounge has some of the best Nebraska beef I have ever tasted. We ate here twice after long hunts and every time we left feeling ready for the next day's adventure. If you would like to hear about the gear we used on this trip please read below.
Gear:
My overall worry for the December trip was comfort for my hunting partner. She had never experienced a western hunt and she had never hunted longer than one cold evening in Michigan's upper peninsula. Although that hunting experience was a frigid one, I knew she would need better layers. Merino wool was at the front of my mind as I started my base layer search. From the ground up, we went with First Lite's, Zero Cold Weather Crew sock. A Sock that can wick moisture and hold heat even when wet. Next we bought the women's Kiln base layer top and bottom, although a touch itchy (according to Amanda) they were very warm and flexible. For myself I went with the men's Stone Glacier Chinook Merino Crew base layers. Originally I had purchased Badlands Ovis leggings and a Seal quarter zip. I eventually got cold feet, pun intended, as the Badlands gear is a 50/50 blend polyester and merino wool. On the other hand the Stone Glacier base layer is 100% merino wool. Hindsight is always 20-20 though as I would have been more than comfortable with the Badlands base layers. I ran both set ups during this trip and both the Stone Glacier and Badlands gear performed like a dream. As a backup, my fiance and I also purchased alpaca socks from Altera. I had complete confidence in the Merino wool options we had purchased from First Lite however, I like to prepare and have used these socks in the past, they are a must have for any hiking trip.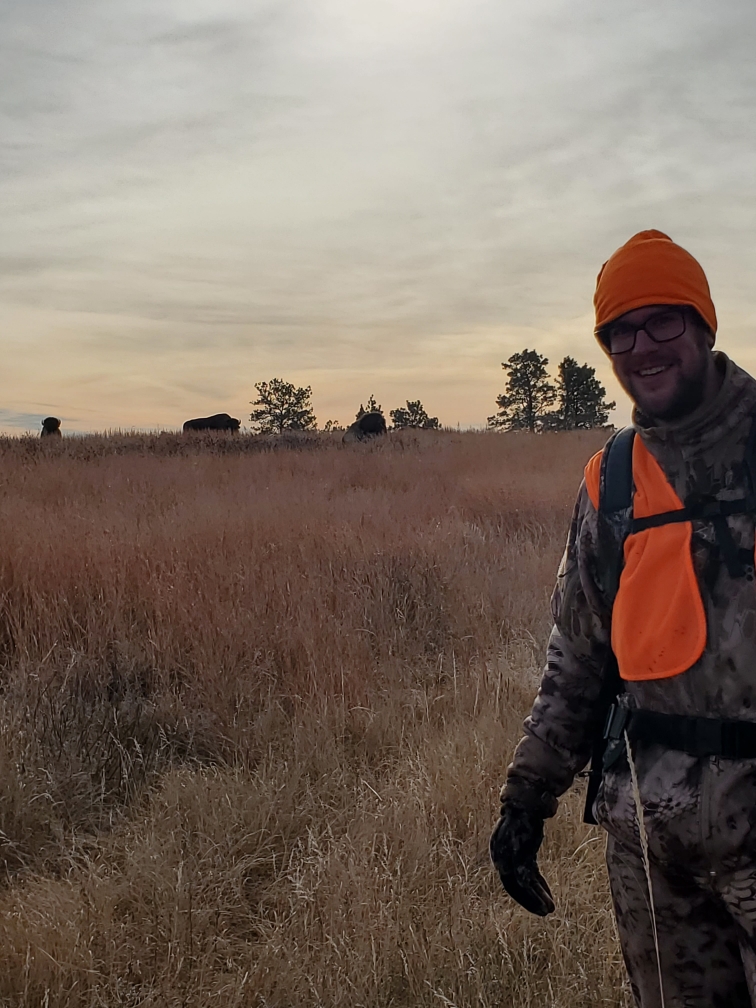 With the base layer battle won, Mid layers were now on the list. I wanted a layer that was flexible, wind resistant and would lend to easy travel over rough terrain. We were looking at a minimum of two miles just to access the refuge and another four to six miles to get into a solid position. I chose the First Lite Corrugate Guide Jacket and this thing has become my favorite jacket. Breaks the wind with ease, waterproof and lined with a small amount of merino on the breast plate, I was beyond stoked with this choice. For a mid layer pant I chose the Kryptek Njord pants. I cannot get enough of this pattern and I truly believe it works the best of any camo. Although this pant was a bit warm for the amount of hiking we would undertake, the ability to adjust the fit of the legs and the many pockets proved a good choice. We would lean on Carhart for a mid layer for my fiance. Amanda would use the Clarksberg sherpa-lined hoodie; a fleece hoodie with a rain resistant design and thick material that works well as a windbreak. Between the First Lite kiln leggings and a layer of leggings of her own, Amanda did not need a mid layer pant for the trip that was above and beyond a legging.
Arguably the easiest gear decision for the trip was our outside shells. Having hunted in the midwest and upper peninsula of Michigan for most of my life, I was accustomed to hunting in a wide range of weather. Amanda grew up in the upper peninsula, snow and cold weather was something she could endure possibly better than me. I gave Amanda a Gamehide jacket with a zip out liner, this jacket still proved to supply warmth and wind shear even though it was approaching two decades old. We also purchased DSG Outerwear; Breanna Fleece Drop Seat Bib's for Amanda. When it comes to womens hunting gear, it can be hard to find but DSG does a great job filling that gap and these bib's offer ultimate functionality. For myself, I went with Kryptek again and chose the Njord jacket. While this jacket does not work while worn as a sole layer, in combination with the above layers this jacket worked like a charm. A common theme of this trip is wool clothing and I rounded out my gear with an outside shell of Columbia outdoors 100% wool pants. I would not end up using these pants as the weather was cooperative and we mostly utilized mid layers with a solid base set up. I tried to utilize my wool outer layer one morning, it was five degrees when we woke and I thought we would freeze up on a big ridge. We layered up with base, mid and outer layers and just two miles in we were stripping gear off and throwing it in the pack. A good long hike will shake off any bit of cold.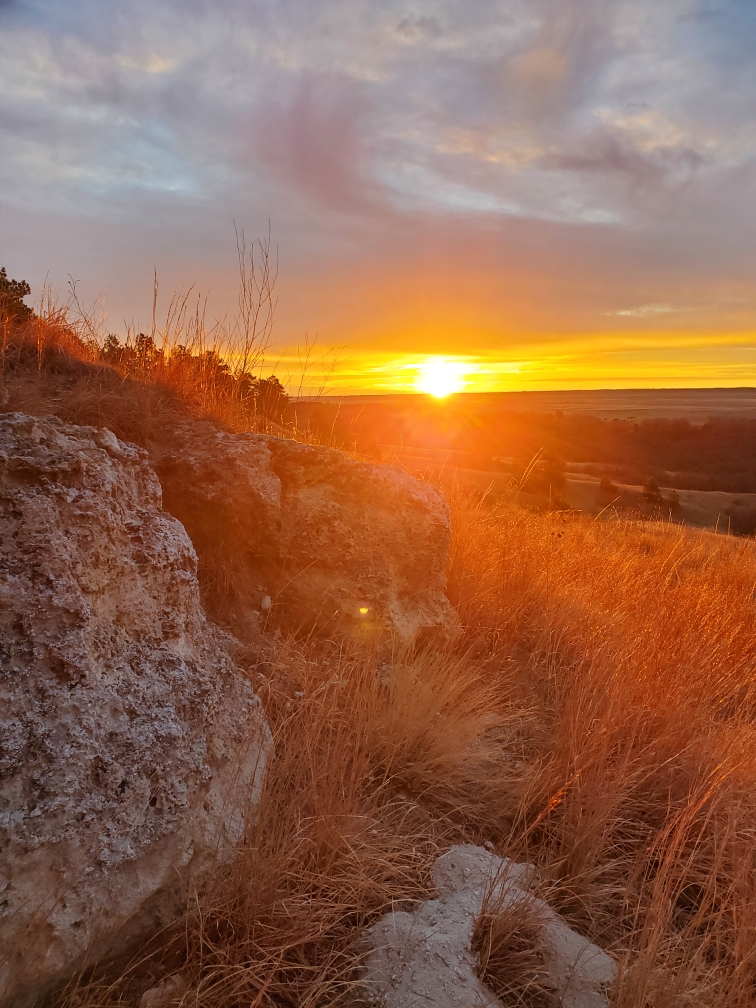 Hiking was a large part of this hunt, we had to hike multiple miles over changing elevations every day. With mile totals adding up to double digits for a single day our boots became a very important piece of equipment. Rocky makes one heck of a pair of boots and their Men's eight-inch Prohunter with 400G insulation proved to be the right mix of insulation and support to keep me moving all day. I hike a minimum of three miles a day around home just to stay sharp, these were the first boots I used that had a very light break-in period. Amanda chose the Lacrosse Women's Alphaburly pro, while I think these boots would have been a great choice for a midwest hunt, the miles in Nebraska proved to be too much for her Achilles tendon. My fiance is a clever girl though and packed some backup boots. Columbia's Omni Heat boots are great and while these boots are not necessarily made for backcountry hunting, they served a need and her Achilles did not bother her again until the last day. These boots depend on the sock though, the self-warming technology only works well when you're moving, otherwise, you will need to depend on your socks to keep you warm when stationary and searching for game, support is also lacking a bit with these boots. For myself, gloves are always a point of contention when I'm planning a hunting trip. I'm either trying to find matching gloves or I'm fighting the battle of maintaining finger dexterity while simultaneously keeping warm. I solved this issue by purchasing fingerless mittens. These gloves give you the option to run a gloved hand with free fingers or run a mitten with all fingers covered by a mitten flap. This solves my dexterity problem and SHE, a Cabelas/bass pro brand, makes a great option for women. Amanda utilized SHE's orange/camo reversible hat, fingerless mitten gloves, and a neck gaiter. Running a system with a lot of options like this allows you to shed or add the proper components when needed. I also utilized a reversible camo to orange hat from Cabelas and a neck gaiter. With these final pieces of gear, we were ready to conquer Nebraskas, Fort Niobrara refuge.