Why Film?
My filming endeavours started back in high school, I wanted to be able to look back through the years and relive all my hunting seasons, my successes, failures, learning opportunities and those times where I found myself thinking, "if only I had a camera to get that on film." I also wanted to use my film as a way to teach others about hunting by providing tips and tricks in my videos. It can also be a tool to help change hunters mindsets to one focused more on conservation and the story of the hunt, rather than the kill. I started filming with a cheap camcorder, a tripod that I strapped to my deer stand with a ratchet, and absolutely no clue what I was doing. Twelve years has taught me a lot about filming my outdoor adventures, and I am still learning new things every season. This is a short article to provide some recommendations on equipment for those wanting to start filming hunts on a budget.
The Recording Device
DSLR and Mirrorless Cameras are great, they are versatile and provide you with some amazing film and photography, however, for a hunter on a budget, they are expensive and not as friendly as a camcorder for those who self-film their hunts. Camcorders are less expensive, have awesome optical zoom built in, and are made for video. That is why I recommend the Canon Vixia HF R800 or R700 to start out filming your outdoor adventures. Both camcorders record in Full HD 1080p and are capable of recording 60fps. The cameras or camcorders I usually purchase are used and I have never has issues with them at all. Buy The HF R800 or R700 at the Canon Store for around $200. You can also try the Sony HandyCam line of camcorders.
Memory and Batteries
Having extra batteries and memory cards are a necessity when filming hunts. Nothing is worse than running out of battery or memory during a hunt. I always carry two spare batteries and enough memory to film my entire day and then some. For SD cards make sure you get a card that will record at a fast enough rate for your video. 64GB SDXC Class 10 Speed memory cards work well. Two batteries and memory will run you around $125 +/- depending on the brands you get.
Audio
H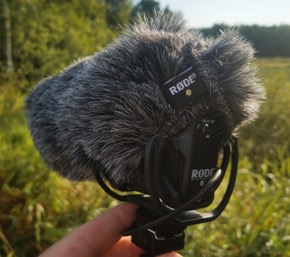 aving quality audio is crucial to creating quality video. I have gone back to watch some of the first movies I filmed without a shotgun mic and the wind noise and hollow tone of the audio were distracting enough to make the film nearly unusable. I primarily use the Rode Videomic ($150) or the Videomic Pro ($230). Both microphones will give you excellent audio and cut down on many of the distracting ambient noises. Be extremely cautious of purchasing shotgun microphones on Ebay or Amazon, a lot of them are knock-offs and it is easy to get burned unless you can spot their very subtle differences. (For Rode, the gold dot on the battery cover is shinier on the legit ones and the legit ones have smoother edges). If you do get a knock-off you will definitely be able to hear it in you recordings, the audio will sound worse that the microphone built into the camcorder. You can purchase these used, just make sure they are from a reputable source such as Adorama or B&H. Other good brands are Azden and Sennheiser. You will also need a microphone mount to go on your Vixia HF R800 camcorder; these can be purchased at Campbell Cameras for a reasonable price. There are cheaper options for Rode Microphones such as the Rode Go. Unfortunately, many camcorders and cameras do not supply power to the microphone, so you will need to get a microphone that is self-powered, usually by a 9v battery; the Rode Videomic and Videomic Pro are both self-powered.
Remotes
A LANC controller is a great accessory to have when self-film your hunts. With one hand, you can run all the necessary functions on your camera to record your hunts. Before I had a LANC controller I needed to have both hands to run the camera, which was not user friendly at all for the self filmer. With the LANC, I can run the camera with one hand and use a call or get my weapon into position for the shot with the other. If you do not have the budget for this and are on the fence between making this purchase or a shotgun microphone, get the shotgun microphone, having quality audio is crucial. The LANC I recommend is the Varizoom VZ-Stealth-LX Zoom Controller. This controller will provide you with some key functions such as zoom, focus and record and makes them easily accessible with one hand. You can get this controller for around $100.
Stay tuned for part two of this series featuring accessories, editing software, and tips on how to put it all together!